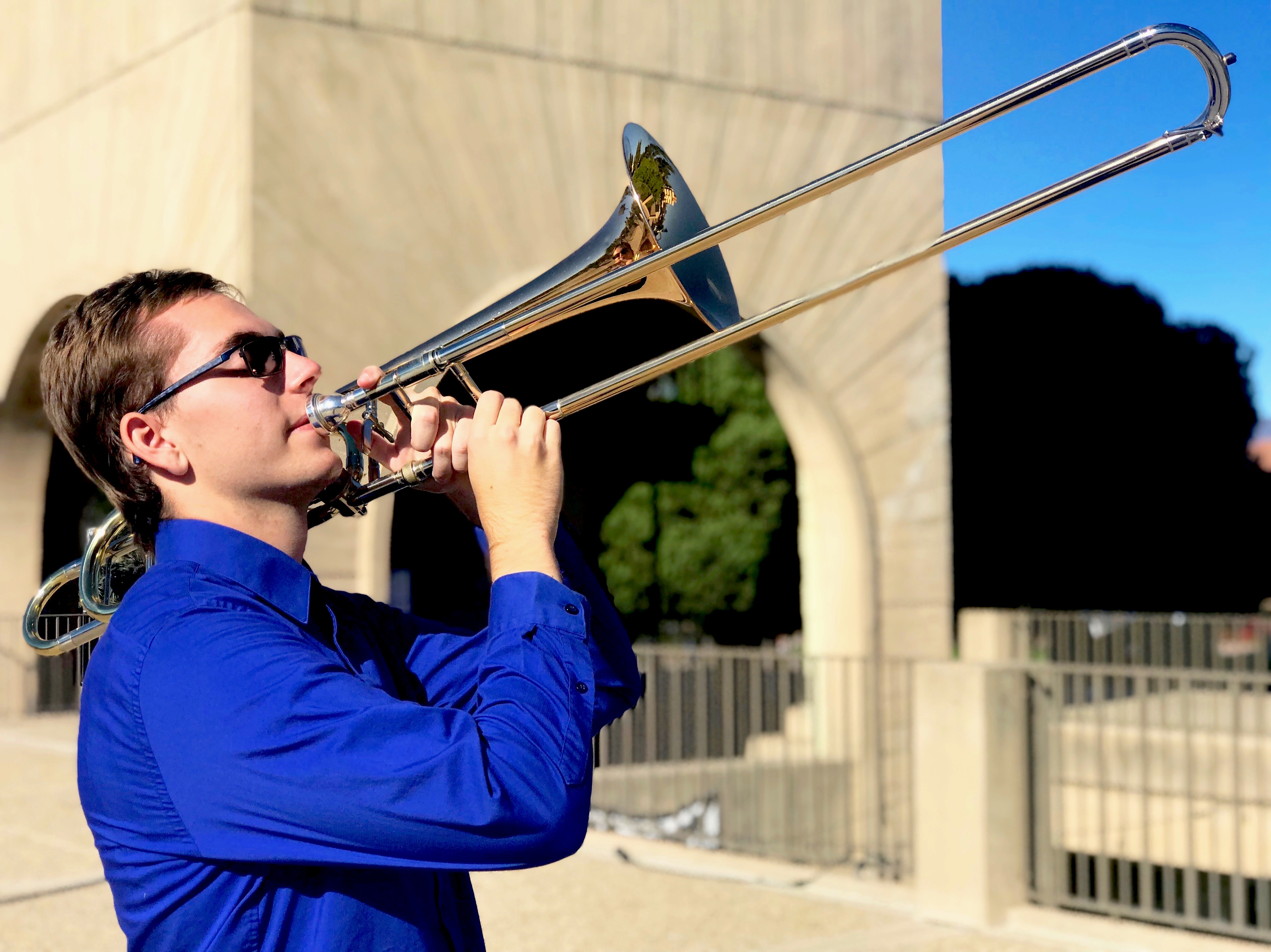 Hi, I'm Nick
I believe people with a passion for music can change the world for the better. I first craft memorable music that form emotional connections with my listeners, then I help others do the same.
As a composer, my work has gotten many awards, including winning the Christopher Bill Composition Competition in 2018 and being a 4-time Corwin Award recipient. I've done arrangements for the Division Brass Quintet, Santa Barbara Youth Symphony, Ojai Pops Orchestra, as well as the Santa Barbara Trombone Society. I deal mainly with instrumental music, and orchestra is my bread and butter.
As a trombonist, I've played all around the country, including Indianapolis, Eugene, and Bellingham. I've also performed with some of the best players in the industry: Joe Alessi, Alex Iles, Bob McChesney, Bill Reichenbach, Robert Soto, James Miller, and so many more. I've also taken lessons and gotten tens of masterclasses. I do my best to play all styles of music that trombone can offer, from the most conservative Gabrielli to the incredibly modern Donald Erb, and every classical and popular style there is.
Since graduating from UC Santa Barbara in 2019 with degrees in composition and trombone performance, I've been helping composers around the world create, share, and sell their music.
I run Finale Superuser which helps teach composers how to use the industry standard music notation software. I'm a contributing author on OF NOTE, Scoring Notes, the Finale Blog, and more, to help even more composers.
Then, in 2019, I created Parts and Score—the best place for composers to sell, promote, and protect their music. So far, hundreds of composers have thousands of pieces of music for sale. And they love the site.
And this is just the beginning. Because I am not a conventional musician, and I don't intend to become one.
Core Values
What we believe determines what we do, and therefore what we do is a reflection of what we believe. These core values are what I believe and how I wish to act, and you can hold me to them. Now I may make mistakes from time to time, but this is what I strive for.
Think big, then think bigger
Thinking small is a self-fulfilling prophecy. Impactful solutions require big changes, and big changes only come from impossibly large goals.
Insist on the highest standards
Every detail matters. Best in the world isn't good enough. Only by continually raising the bar is it possible to truly create innovative solutions to music's largest problems.
Proactively solve hard problems
Instinctively pursue and solve hard problems. Anyone can solve easy problems, and change comes from solving problems no one else is willing to solve in ways no one is willing to solve it. Only then can you create solutions that are orders of magnitude better than everything else. Because you shouldn't do things differently for the sake of being different. It needs to be a whole lot better.
Music is a form of self-expression. Music is how we, human beings, connect with each other. Focusing on profits over people will not only hurt in the long run, but is also completely contradictory towards my goals. It doesn't mean not earning income, it just means people come first.
Never sacrifice relationships and long-term goals for short-term profits. This requires constantly doing what is right and not what is easy.
Trust. Openness and transparency are the backbone of creating trust, and nothing can be accomplished without trust. It's not always easy, but it's always right.
Your actions are your real values
Anyone can post their believes on their website. And they might actually believe what they write. But what you do—not say—shows what you really believe. Always make sure that what you do what you believe. That way, you actually believe in what you do.
Dashboard
This is my personal dashboard. I use it to track various metrics and goals about my life, all the way from YouTube to Spotify. More stats coming… eventually. Though hooking up the APIs can take some time.
…oh, and this page has gotten -- views.
Recently played
Top tracks of all-time